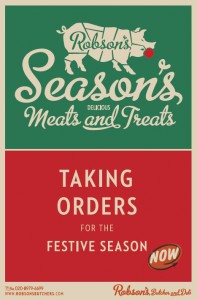 The last of Autumn's leaves are turning – which means our Christmas order book is open!
Come into the store or give us a call to place your order. We have all our usual variety of meat and deli goods as well as some great Christmas additions.
Free range Bronze Turkeys

Our turkeys  come from Temple Farm. We have used Chris for years because of his great tasting birds and sound animal welfare practice. He supplies us all year round with his Label Anglais chickens too – we wouldn't want any other Turkey on our festive table!
Choose from whole birds, crowns, rolled boneless breasts (stuffing optional) all to suit your party's size and tastes.

Free Range Geese and Ducks from family team, Howard and George at Herons Farm.
Free range Three Bird Roast, layered with a choice of stuffing – Popular combinations are Turkey, Goose and Pheasant; and Goose, Chicken and Pheasant or choose your own combination of birds and stuffing and make it uniquely yours for the festive table. If you would like more than three birds, just ask the butchers.
Large Label Anglais Chickens – up to 3.5kg
Dry cured Gammon, choose from smoked or unsmoked and on or off the bone.
Cooked Honey Roast or Gammon Hams to make things a little easier and give you more time with the family.
Our gorgeous 28-day Aged Beef, including delicious Rib of Beef – a fabulous centrepiece – Sirloin, Rib-eye and Topside.
Large legs, shoulders or saddle of Lamb for roasting.
Everyone's favourite, our Free Range Pork  – including our ever popular shoulder and loin, rolled or on the bone.
Rolled Haunch of Venison for roasting.
Game Birds including, Pheasant, Partridge, Guinea Fowl.
Don't forget the trimmings!
Goose fat
Ready-made stuffing
Pigs-in-blankets (best to order ahead)
Sausage meat
Dry cured sliced bacon
Chipolatas and cocktail sausages (gluten free versions available)
Squealer pork pies
Cheese Boards and Hampers
Choose from our existing cheese range or if there is something specific that you would like we can order it in for you.  Festive favourites are Colston Bassett Stilton, Black Bomber Cheddar, Vacherin Mont d'Or to name a few.
Hampers and Gift Vouchers
Our Hampers can be made up to suit any budget and taste or simply buy one of our Robson's Gift Vouchers – a great present for a foodie or someone who loves to cook and these start from £5.
Deadline for orders: 15 December
(if you miss the deadline, we will of course try to help you, but choice does become more limited closer to the Holiday, particularly with regard to sizes).
You can also place orders for your New Years parties before Christmas.
We are a traditional butchery and use whole sides of beef, lamb and pork so that we can provide you with any cut you prefer. If you're not sure what to cook for centrepiece or sides, need some advice, or are working to a budget, just give us a call – we'd love to help.
Seasons Greetings!

Share on Facebook