Lamb Recipes
I have recently been asked for some lamb recipes, so here are a few that we love.
Harissa Spiced Lamb Shanks
This was originally a Nigel Slater recipe that I have changed a bit. It's very simple and perfect for cold winter nights. I normally serve it with rice or potatoes, but it is gorgeous with crusty bread to mop up the sauce if you just want a quick one pot supper.
You will need:
2 lamb shanks
about a tablespoon of flour
olive oil
2 large onions
3 garlic cloves – crushed
1 tablespoon tomato puree
2-3 teaspoons of Harissa paste
a small stick of cinnamon
1 tin chopped tomatoes
salt and pepper
Pre heat your oven to 170'c or Gas 3.
Dust the shanks with flour and brown them in a large casserole dish with just enough oil to coat the bottom of the pan.
Remove the shanks and lower the temperature before adding the onions and garlic. Cook them until they are glossy and a nice golden colour. Add the tomato and Harissa pastes and the cinnamon and cook for a minute or two before adding the tinned tomatoes. Return the shanks to the pan and pour in enough water to almost cover them. You can add a bit of salt at this point – a big pinch is enough. Bring to the boil and then cook it in the pre heated oven, covered for about 2 to 2 and a 1/2 hours. the meat should be falling off the bones.
Remove the shanks, scoop all the oil off the surface of the sauce and then simmer the juices until they reduce and thicken up a bit and then season with the salt and pepper and pour the sauce over the shanks or pop the meat back in with the juices and just serve straight from the pot. Heaven.
I have made this recipe in a slow cooker too and it takes at least 2-2.5 hours on medium to high or leave overnight on a lower setting. Appliances vary, so look at the manufacturers guidelines.
Rack of Lamb with a crunch
This was published in the Hampton Hill Association magazine this summer, but here it is again if you missed it.
You will need
One rack of lamb – French trimmed with the fat scored(Ask the butcher!)
30g fresh white breadcrumbs. (you can use dried, but fresh give a softer crust)
2 Tablespoons grated parmesan
3 Tablespoons finely chopped parsley
1 garlic clove crushed
a little olive oil
smooth Dijon mustard
salt and pepper
Preheat your oven to 180'c (Gas 4/350'F)
Mix the breadcrumbs, parmesan, parsley, garlic and a drizzle of olive oil quickly together in a food processor or by hand if you don't have one.
Season with the salt and pepper and set aside.
Heat a large pan until hot and fry the rack, skin side down for 2 minutes until well browned. Brown the rest if you like, but don't over-cook it.
Brush the hot rack liberally with mustard and cover with the crumb mix, pressing firmly to make sure it sticks. Traditionally only the fat is covered, but you can roll the whole piece in the crumb mix if you prefer.
Pop it back in the pan or on a baking sheet and cook in the preheated oven for 25-30 minutes depending on the size of the rack. Best a bit pink inside!
Serve with salad and new potatoes.

Share on Facebook
Venison Stew: A Classic for a Festive Feast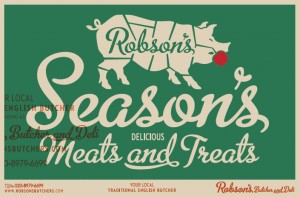 You'll need:
1kg diced venison
1 tsp crushed black pepper and salt to taste
1 tbsp plain flour
A little oil for frying
2 large cloves of crushed garlic
3 large onions
2 medium carrots
1 large parsnip
1 Bay leaf
Fresh oregano or thyme
1 1/2 cup (375ml) red wine (something mellow like a Beaujolais)
2 1/2 cups vegetable stock or water
6 or 7 small potatoes peeled and cut
Cornflour or plain flour to thicken if desired
Season the diced venison and dust with the flour.
Heat the oil in the bottm of a heavy based casserole dish and add the meat.
Brown on all sides and add the carrots, onions and crushed garlic.
Pour in the wine and stock, add the herbs and bay leaf.
Simmer on a low heat for about 1 1/2 hours or until the meat is tender.
Add the potatoes and parsnips and cook for another 30 min or until they are soft.
At this point thicken with a little cornflour if desired and cook for a further 10 minutes.
Notes:
Worcester sauce or 50g of dark unsweetened chocolate can also be added for a richer flavour.
This receipe can be made without the wine, just substitue with water or stock instead.
Remove the bay leaf before serving!

Share on Facebook

Glazed Gammon: A Classic for a Festive Feast

You will need:

a 2 kg piece of uncooked gammon
a handful of cloves

Suggested glaze:

125ml whiskey
125g demerara sugar
zest of 1/2 an orange cut into thin strips
1 star anise

Method:

Preheat your oven to 170 deg C (or gas mark 3).
Mix all of the glaze ingredients together and leave to one side.
Place the ham in a pot, cover with water and bring to the boil.
Simmer for 5 minutes then pour out the liquid and remove the ham.
Remove the skin carefully without trimming too much fat.
Score the fat into diamonds (about 2cm intervals).
At this point you can stud each diamond with a clove for extra flavour if desired.
Place the ham on a roasting tray and cover lightly with foil.
Cook for about 2 hours (roughly 30 mins per 500g).
Remove from the oven, pour the glaze over the ham and return to the oven for a further 30 minutes.
Baste at regular intervals with the juices from the bottom of the pan.

Sticky, sweet and delicious! Enjoy!

Share on Facebook

Coming soon………

I have found some fantastic new ranges for the shop recently and will slowly be introducing them from the end of the month. The first is a divine range of spice kits.

'Each clever little (no waste) pack contains lovingly selected herbs and spices and an easy to follow recipe. There's a shopping list on the back of the pack so you can get all the other ingredients needed to prepare your favourite dish.'

I met Ketan and his sister last week and their business started when he was at university and his mum sent him recipes and spices to make real Indian curries that would remind him of home. I love this family run business. The kits are not expensive, have very clear instructions and taste fab. We had the Rogan josh (Zach's favourite!)for dinner last night and it was delicious, simple to make and much healthier than any takeaway version!

We will also be stocking their Peri Peri chicken, Moroccan lamb tagine and other world flavours, so come try them out! From November we will also have their range of rubs in the most gorgeous collectable tins. Not sure which ones I love more!?

Share on Facebook