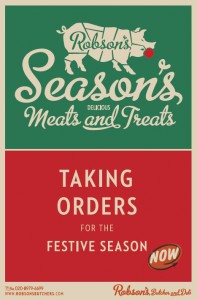 Avoid the festive rush and place your order for your meats and treats now. We have everything your family needs for a truly magical festive season:
Free range bronze Turkeys from Chris Fredericks at Temple Farm
Geese and Ducks from Father and Son Howard and George at Herons Farm (also free range)
Impress with a Free range Three Bird Roast which we'll tailor to your specifications (popular combinations are turkey, goose and pheasant; and goose, chicken and pheasant). These are all layered with stuffing, and we have a choice of flavours.
Dry cured Gammon, both smoked and unsmoked (free range of course)
For boxing day:

Our popular 28-day aged beef, including fabulous carvery Fore Ribs (which always looks really impressive when served)
Our salt marsh lamb, slow roast a leg or a rolled shoulder until meltingly delicious
Everyones favourite, our Gloucester Old Spot Pork
Cooked Dry-cured Hams to make things a little easier and give you more time with the family

Large Label Anglais Chickens
Turkey crowns for those who don't like the dark leg meat, and Rolled boneless Turkey breasts for ease of cooking and carving – both made from our Free range bronze Turkeys from Temple farm.
And don't forget the trimmings! You can pick these up at Robsons to reduce the shopping stops you need to make:
Goose fat
Ready-made stuffings
Pigs-in-blankets
Sausage meat
Place your Christmas order and stand a chance to win The Festive Hamper to the value of £100 AND your original order on us!
Don't forget to order your cheese board and deli goodies at the same time, and it's always a good idea to order your New Year meat before Christmas so that it's all organised and you can rest assured over the holiday that the boys have it in hand.
If you're not sure what to cook for christmas, need some advice, or are working to a budget, just give us a call and we'll come up with the best options for you, take special requests, and give you some great tips.
Seasons Greetings!

Share on Facebook