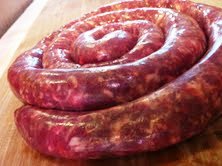 With the weather looking like it's going to be a bit better this week, get the barbecue out and try our traditional South African sausage – Boerewors. This succulent barbecue speciality has a coarse texture and is made with a mixture of pork, beef and our unique spice mix.
Also in  stock:  All Gold tomato sauce, Mrs Ball's chutney and  Ouma rusks.
We have a wide range of barbecue packs made up for you to choose from or ask one of the butchers and we can tailor them to your needs.
Bring on Summer!

Share on Facebook