The Robson's Christmas Tree is up, and we have some tempting treats for you to put under yours or on the table! Come along and have a look.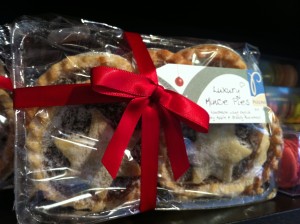 For teatime

Honesty Christmas Cakes
Fabulous Pannetone
Mince pies, handmade with English Bramley apple and brandy mincemeat, from the award-winning Pullins Bakery
Limited stock of mini mince pies
Lebkuchen – moreish German Christmas gingerbread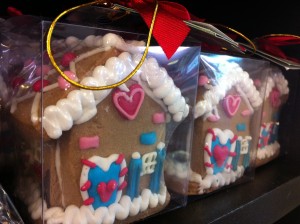 Fun for the young at heart

Little gingerbread houses to hang on your tree
Winter pasta in snowflake shapes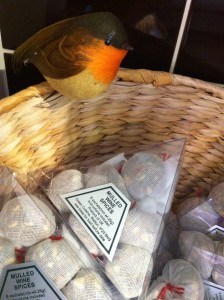 To drink

some non-alcholic mulled wine punch in 1litre bottles – have it hot or cold, and you can add your favourite tipple for a little more warmth
some mulled wine spices to make your own at home and have the whole house smelling of christmas.
add some vodka to our French pink lemonade for a stylish party cocktail.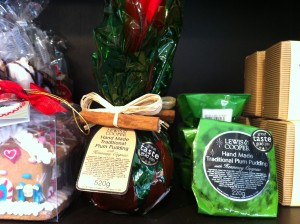 And last but not least …

Traditional Plum Pudding
Pavlova Meringues in a seasonal star shape – fill it with whipped cream and/or marscapone, and top with slices of pear and Clementine segments, a quick syrup made with sugar, a little water, cinnamon, star anise, clementine juice, vanilla. Serve with cognac or a dessert wine for festive flair!
Macaroons, for a quick but delicious dessert with friends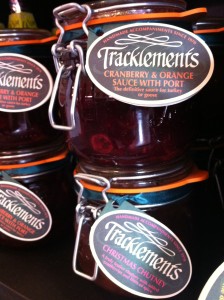 Tracklements' Christmas chutney is full of spice and is perfect with boxing day turkey or lovely with a soft creamy cheese and crackers.
The Cheese de Resistance! We've got a great selection of cheeses to create the perfect cheeseboard for your christmas meal. New in for christmas include:

Godminseter organic cheddar hearts
Colston Basset Stilton, the one and only.
Whole Lancashire bombs (a great gift for a foodie!)
Creamy Vacherin Mont D'or

And of course a selection of pates, cold meats and olives
Gifts and Gift Hampers
All of our products can be beautifully presented and gift wrapped – Perfect to take along to a dinner party as a thank you.
We can put together gift hampers for you, small or large and beautifully wrapped, or pick out a few things and we will gift wrap them for you.

Share on Facebook