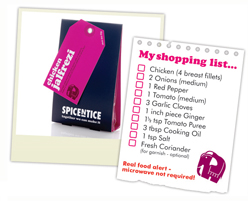 I have found some fantastic new ranges for the shop recently and will slowly be introducing them from the end of the month. The first is a divine range of spice kits.
'Each clever little (no waste) pack contains lovingly selected herbs and spices and an easy to follow recipe. There's a shopping list on the back of the pack so you can get all the other ingredients needed to prepare your favourite dish.'
I met Ketan and his sister last week and their business started when he was at university and his mum sent him recipes and spices to make real Indian curries that would remind him of home. I love this family run business. The kits are not expensive, have very clear instructions and taste fab. We had the Rogan josh (Zach's favourite!)for dinner last night and it was delicious, simple to make and much healthier than any takeaway version!
We will also be stocking their Peri Peri chicken, Moroccan lamb tagine and other world flavours, so come try them out! From November we will also have their range of rubs in the most gorgeous collectable tins. Not sure which ones I love more!?

Share on Facebook