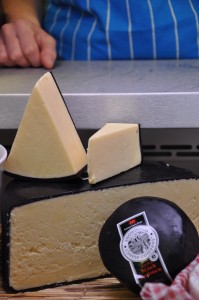 When we had two requests for Black Bomber Cheddar in the same day this week, we knew we had to get some in to taste. We're really glad we did! This award winning Cheddar is smooth, strong and creamy. Everyone who has tasted it in the shop so far has expressed delight at it's deep smooth flavour. Very tasty!
The Little Black Bomber Cheddar is a brilliant addition to any cheese board or just have a wedge of it with honey roast ham, fresh bread and pickles!
This Welsh cheese is made from pasteurised cows milk and is suitable for vegetarians.
We have it in individual 200g Truckles or a wheel in the deli counter that we can cut to any size.
When you're next nearby, pop in and have a taste!

Share on Facebook