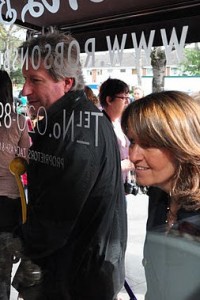 Thank you so much to everyone who came along to look, talk and shop – we had a wonderful day on Saturday and are thrilled that you agree it's high time the area had a butcher again.
We hope you had a chance to enjoy the fun outside – Celie doing facepainting for the kids, Oscar at the barbeque cooking our Plain Pork sausages, Basil and Garlic Italian Sausages and the Marinated Butterflied Leg of Lamb, (Yummy! – See the the recipe on our site) and Adrian and Kay sampling some of our deli condiments, chutneys and drinks.
The feedback from the flyers and the day itself has been fantastic and we look forward to seeing you again and chatting some more now that we have had a few days to settle in.
A huge and heartfelt thank you to our family and friends who pitched in to help with all the preparations, to Nan Robson for spending so much of the day with us and to everyone who left comments, emailed their support or popped in to encourage us.

Share on Facebook